Baked Herb And Parmesan Potatoes. Oven Roasted Herb and Garlic Parmesan Potatoes. If you're aware of the serious drought situation here in California, you know what a big deal this is for us. These Roasted Potatoes with parmesan, garlic and herbs are my favorite, go-to roasted potatoes!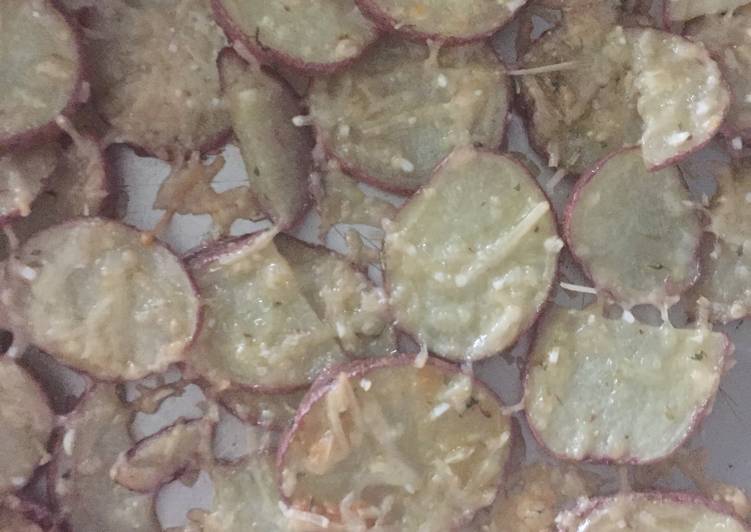 Roasted Red Potatoes are easy, quick and delicious making them the perfect side for chicken, fish, beef and pork. These delectable potatoes are coated in herbs and Parmesan and roasted to crispy golden perfection. I love to serve them with Oven Baked Beef Brisket and Lemon Pepper Chicken. You can cook Baked Herb And Parmesan Potatoes using 9 ingredients and 7 steps. Here is how you achieve it.
Ingredients of Baked Herb And Parmesan Potatoes
It's 4 of Baby Red Potatoes.
It's 1/4 tsp of Onion Powder.
You need 1/4 tsp of Oregano.
It's 1/4 tsp of Parsley.
It's 1/4 tsp of Rosemary.
Prepare 2 tbsp of Olive Oil.
It's 1/4 tsp of Thyme.
It's 1/4 tsp of Garlic Powder.
You need of Parmesan Cheese.
These Garlic Herb and Parmesan Roasted Red Potatoes have just the right blend of herbs and spices. As well, the addition of parmesan brings this recipe over the top. Since it's roasted in olive oil, you get that crisp outside yet soft inside. To the baking sheet, add the potatoes, evenly drizzle with olive oil, and evenly sprinkle with Italian seasoning, garlic powder, salt, pepper, and toss potatoes with hands to coat evenly.
Baked Herb And Parmesan Potatoes instructions
Gather ingredients.
Preheat oven to 375°F..
Slice potatoes thin. Then add to the bowl with all of ingredients except parm cheese..
Spread evenly in a baking dish..
Add the parm cheese as much as you like :).
Heat in the oven for 20 mins..
Seriously how good does this look?! I served this as a side to some grilled haddock and broccoli:) yum!.
Baked chicken and potatoes in a butter garlic herb sauce, crispy garlic parmesan crusted chicken is a delicious one-pan dinner and very easy to prepare. The Chicken is Juicy on the inside and crispy perfectly seasoned on the outside. Potatoes are tender and cooked to perfection in the pan juice. I made your garlic-herb and Parmesan roasted potatoes along with the no-bake Oreo dessert last night for guests. Both were very easy to make and a huge hit!