Buttermilk Biscuits. The best buttermilk biscuits I've made since I began my quest for the perfect biscuit. I love the folding technique that left the biscuits with the perfect consistency not to mention flaky. Add buttermilk; stir just until the dough clings together.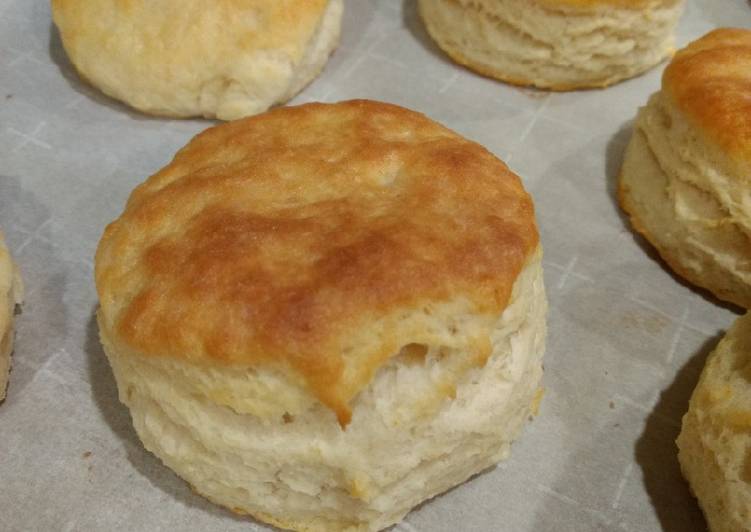 The instructions below are precise for a reason and should be followed as written. But I also love them smeared with strawberry jam or covered in country gravy loaded with spicy pork sausage. This recipe came from my great-great-grandmother, and was handed down to all the women in my family, and we are all Southern. You can cook Buttermilk Biscuits using 4 ingredients and 9 steps. Here is how you cook that.
Ingredients of Buttermilk Biscuits
It's 2.5 cups of Self-Rising flour.
You need 1.25 cups of cold buttermilk.
You need 1/2 cup (1 stick) of salted butter, frozen.
It's 2 tbsp of butter, melted.
I am the first one to commit the sin of using a food processor (lol) but I find it works very well. I would put these biscuits up against anyone's – they are perfect in every single way. Sift flour and baking soda together in a large bowl; cut in shortening with a knife or pastry blender until mixture resembles coarse crumbs. Make a well in the center of the mixture and stir in buttermilk until a soft ball forms.
Buttermilk Biscuits instructions
Grate frozen butter using food processor or box grater.
Stir butter bits into flour and chill in fridge.
Preheat oven to 450 and line a baking sheet with parchment paper.
Make hole in center of flour mixture and add buttermilk.
Stir until just combined, about 15 stirs..
Roll dough into long rectangle on floured surface.
Fold short ends together and roll out into another long rectangle. Repeat 3 more times..
Roll dough out one to 1/2 inch thick. Cut into 10 biscuits, reshaping scraps as needed..
Bake 12 minutes. Brush tops with melted butter..
Use full-fat buttermilk, and give the container a good shake before measuring. If the sides of your biscuits are touching, they will rise higher. Folding creates multiple layers of dough and fat, giving rise to a tender, puffy biscuit. In a large bowl, cut butter into flour until mixture resembles coarse crumbs. Stir in buttermilk just until moistened.