Buttermilk biscuits. The best buttermilk biscuits I've made since I began my quest for the perfect biscuit. I love the folding technique that left the biscuits with the perfect consistency not to mention flaky. Add buttermilk; stir just until the dough clings together.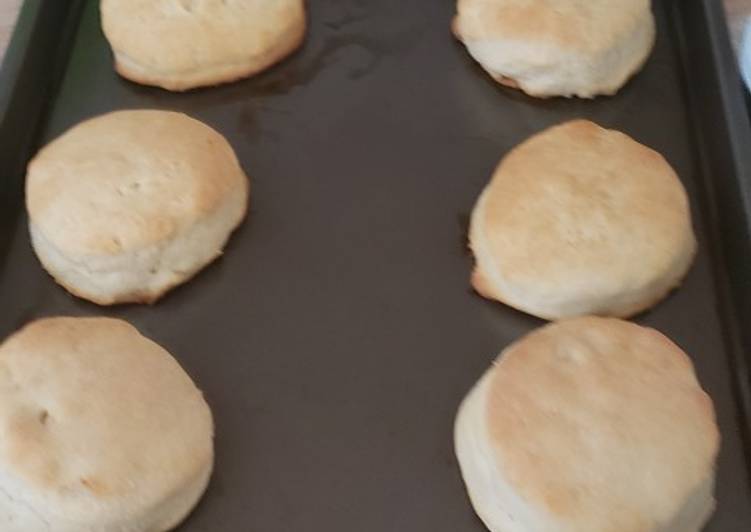 The instructions below are precise for a reason and should be followed as written. But I also love them smeared with strawberry jam or covered in country gravy loaded with spicy pork sausage. This recipe came from my great-great-grandmother, and was handed down to all the women in my family, and we are all Southern. You can cook Buttermilk biscuits using 7 ingredients and 3 steps. Here is how you achieve it.
Ingredients of Buttermilk biscuits
Prepare 2 1/2 cups of all-purpose flour, plus more for dusting.
Prepare 2 tablespoons of baking powder.
You need 1 tablespoon of sugar.
It's 1 1/2 teaspoons of salt.
You need 1 1/2 sticks (12 tablespoons) of unsalted butter.
Prepare of Cut into small pieces and frozen.
Prepare 1 c of buttermilk.
I am the first one to commit the sin of using a food processor (lol) but I find it works very well. I would put these biscuits up against anyone's – they are perfect in every single way. Sift flour and baking soda together in a large bowl; cut in shortening with a knife or pastry blender until mixture resembles coarse crumbs. Make a well in the center of the mixture and stir in buttermilk until a soft ball forms.
Buttermilk biscuits step by step
Preheat oven to 425 degrees F. Pulse the flour in a food processor with the baking powder, sugar and salt..
Add the butter and pulse until the butter is in pea-sized pieces. Add the buttermilk and pulse a couple of times until the dough just comes together but is not fully incorporated..
Turn out on to a floured surface and pat into a thick 8-by-8 inch square. Cut into sixteen 2-inch square biscuits. Arrange on an ungreased baking sheet, brush with buttermilk and bake until golden, 12 to 15 minutes..
Use full-fat buttermilk, and give the container a good shake before measuring. If the sides of your biscuits are touching, they will rise higher. Folding creates multiple layers of dough and fat, giving rise to a tender, puffy biscuit. In a large bowl, cut butter into flour until mixture resembles coarse crumbs. Stir in buttermilk just until moistened.