Creamy Mashed Potato & Meat Pies.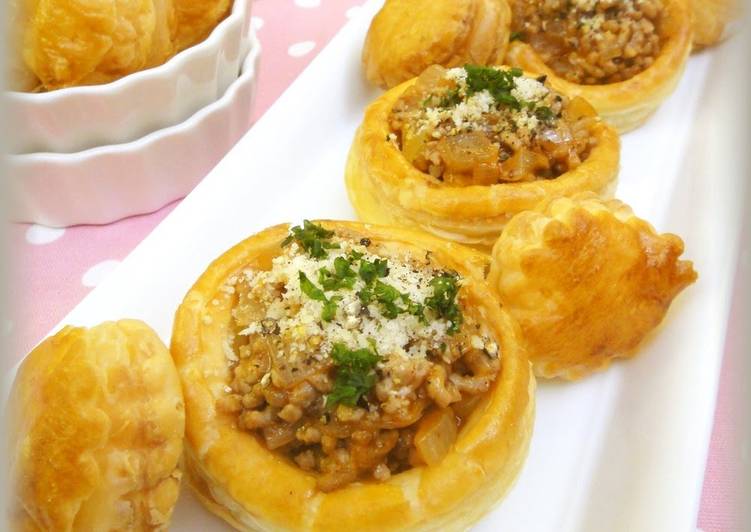 You can cook Creamy Mashed Potato & Meat Pies using 12 ingredients and 8 steps. Here is how you achieve that.
Ingredients of Creamy Mashed Potato & Meat Pies
Prepare 100 grams of Ground meat.
You need 1/2 of Onion.
You need 1 of Potato (medium).
Prepare 1 tbsp of Water.
Prepare 1 tbsp of Olive oil.
It's 1 of ●Salt and pepper.
Prepare 1 tbsp of ● Japanese-style Worcestershire sauce (Chunou).
You need 2 tbsp of ●Ketchup.
Prepare 2 of to 3 tablespoons 35% fat fresh cream.
Prepare 1 bag of Frozen puff pastry.
Prepare 1 dash of Grated cheese.
It's 1 dash of Parsley.
Creamy Mashed Potato & Meat Pies instructions
Defrost the frozen puff pastry at room temperature. Prepare 1 large and 1 small cup. Cut 12 pieces out of the pie sheets (3 per sheet) using the large cup..
Cut small circles out of the middles of 6 of the large circles you cut in step 1. Moisten the perimeters of the uncut circles, and place the rings made of pastry dough on top..
Put the pies on a baking sheet lined with parchment paper, and brush the rims with beaten egg. Bake at 390°F/200°C for 15-20 minutes. Transfer the pie shells to a rack to cool..
Peel the potato and cut into small pieces. Put the pieces on a microwave safe dish, sprinkle 1 tablespoon of water and cover with plastic wrap. Microwave at 600W for 3-4 minutes..
Mash the cooked potato from Step 4 using a masher. Add salt, pepper, and cream, and mix well..
Chop the onion finely. Heat olive oil in a frying pan and stir fry the onion, then the ground meat. Add the ● ingredients to season..
Spoon the mashed potato into the cooled pie shells from Step 3, add the ground meat mixture, top with grated cheese and parsley and they're done..
I also recommend making these with shrimp and cream of mushroom..