Stir-Fry Beef Teriyaki With Red Pepper Risotto.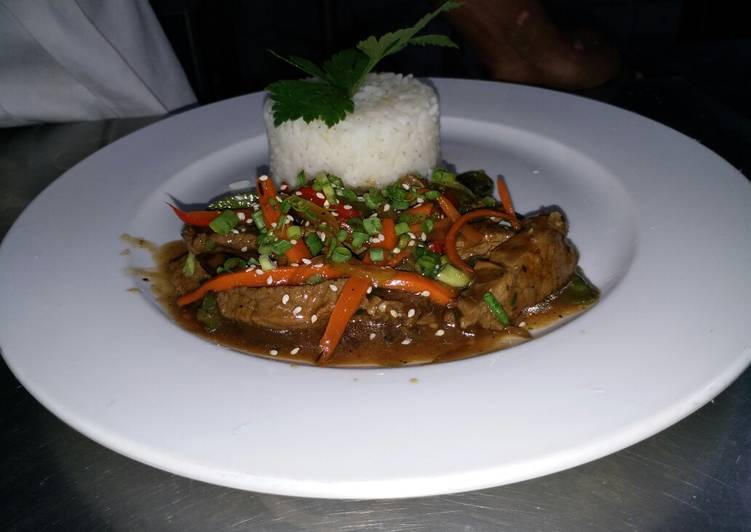 You can cook Stir-Fry Beef Teriyaki With Red Pepper Risotto using 32 ingredients and 11 steps. Here is how you cook it.
Ingredients of Stir-Fry Beef Teriyaki With Red Pepper Risotto
Prepare of Teriyaki Beef.
You need 1 (1 1/2 pound) of piece of bottom round steak.
You need 1 tablespoon of dark brown sugar.
Prepare 1 of lime, zested and juiced.
It's 6 tablespoons of soy sauce.
You need of Ground black pepper.
You need 1/4 cup of thick teriyaki sauce.
Prepare 1 tablespoon of toasted sesame oil.
It's 1 tablespoon of cornstarch.
You need 1 tablespoon of rice vinegar.
You need 3 tablespoon of vegetable oil.
It's 4 cloves of garlic, cut into thin slices.
It's 1 (1 inch) of piece fresh ginger, peeled and cut into strips.
You need 1 of jalapeno pepper, seeded and cut into thin strips.
Prepare 8 ounces of green beans, cut into thin strips.
You need 1 cup of julienned carrots.
Prepare 1 of red bell pepper, cut in half lengthwise.
Prepare 2 of scallions, sliced, for garnish.
You need 2 teaspoons of sesame seeds, for garnish.
It's of Red Pepper Risotto.
You need 6-7 cups of chicken or vegetable stock.
Prepare 2 tablespoons of extra virgin olive oil.
You need 1/2 cup of finely chopped onion or shallot.
It's 2 of plump garlic cloves, minced.
Prepare 2 of large red peppers, finely diced.
You need to taste of Salt.
It's 1 1/2 of arborio or carnaroli rice.
Prepare 1/2 cup of dry white wine.
It's 1 of generous pinch of saffron threads.
You need to taste of Freshly ground pepper.
Prepare 2 tablespoons of chopped parsley and thyme.
You need 2 ounces of Parmesan cheese, grated (1/2 cup).
Stir-Fry Beef Teriyaki With Red Pepper Risotto step by step
BEEF TERIYAKI- Cut the beef into 1-by-2-by-1/4-inch strips. Put in a bowl and coat with the brown sugar, lime zest, 3 tablespoons of the soy sauce and some black pepper. Set aside for a few minutes while you make the sauce..
Whisk together the teriyaki sauce, cornstarch, sesame oil, rice vinegar, lime juice and remaining 3 tablespoons soy sauce in a bowl..
Heat a large wok or skillet over medium-high heat. Add 1 tablespoon of the vegetable oil. Add the beef and stir-fry until brown around the edges, 2 to 3 minutes. Remove to a plate and keep warm..
Add the remaining vegetable oil to the wok or skillet. Add the green beans, garlic, ginger and jalapeno and cook for 30 seconds. Add the carrots and bell pepper and stir-fry for 1 minute..
Add the beef with its juices and the sauce and cook for another minute. Serve over rice and garnish with scallions and sesame seeds..
RED PEPPER RISOTTO- Bring the stock to a simmer in a saucepan, with a ladle nearby. Season generously with salt..
Heat the olive oil in a large, wide, heavy skillet or saucepan over medium heat and add the onions or shallots. Cook gently until they begin to soften, about 3 minutes. Add the garlic, peppers and 1/2 teaspoon salt and cook, stirring, until the peppers are limp and fragrant, about 8 yo 10 minutes. Add the rice and stir over medium heat until the grains are separate and beginning to crackle, about 3 minutes..
Stir in the wine and cook over medium heat, stirring constantly. The wine should bubble, but not too quickly. You want some of the flavor to cook into the rice before it evaporates. When the wine has just about to evaporate, stir in a ladleful or two of the simmering stock (about 1/2 cup), enough yo just cover the rice. The stock should bubble slowly (adjust heat accordingly). Rub the saffron threads between your fingers and add to the rice..
Cook, stirring, until the stock is just about absorbed. Add another ladleful or two of the stock and continue to cook in this fashion, not too fast and not too slowly, stirring often and adding more stock when the rice is almost dry, for 25 minutes, until the rice id cooked through but still a little chewy. Taste and adjust seasoning..
When the rice is cooked through, add a generous amount of freshly ground pepper, and stir in another half cup of stock, the parmesan and the herbs..
Remove from the heat. The rice should be creamy; if it isn't, add a little more stock. Stir once, taste and adjust seasonings, and serve..