Vickys Balsamic Pulled Pork, GF DF EF SF NF.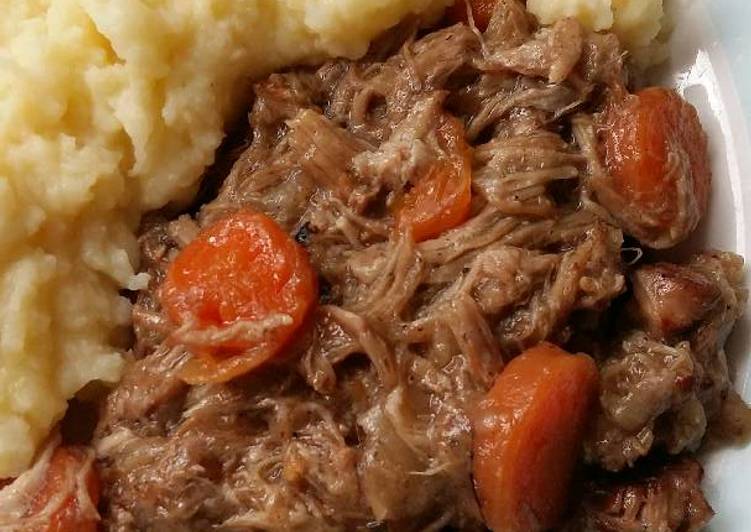 You can cook Vickys Balsamic Pulled Pork, GF DF EF SF NF using 14 ingredients and 13 steps. Here is how you cook it.
Ingredients of Vickys Balsamic Pulled Pork, GF DF EF SF NF
It's 1 1/2 kg of boneless pork shoulder.
You need 1 tsp of salt.
Prepare 1 tsp of black pepper.
It's 3 tbsp of oil, divided.
You need 3 of large onions, chopped.
Prepare 8 of carrots, chopped.
It's 2 tsp of sage leaves, finely chopped.
It's 1 tsp of thyme, finely chopped.
You need 3 cloves of garlic, finely chopped.
You need 3 tbsp of brown sugar.
Prepare 120 ml of balsamic vinegar.
Prepare 480 ml of chicken stock.
It's 180 ml of water.
Prepare 70 g of cornflour / cornstarch to thicken gravy.
Vickys Balsamic Pulled Pork, GF DF EF SF NF instructions
Combine the salt & pepper and rub all over the pork joint. Set aside. (Remove the fat before you start!).
Heat 1 tbsp of the oil in a crockpot or large heavy based pan with a lid and fry the onions until softening. Remove with a slotted spoon.
Heat another tablespoon of oil and cook off the carrots until lightly browning.
Add in the sage, thyme and garlic, cooking for 2 minutes, then remove and set aside with the onions.
Heat the last tablespoon of oil and brown the pork joint on all sides.
Combine the sugar, vinegar, stock and water, stirring until the sugar has dissolved.
Pour over the pork joint, adding in the carrot & onions.
Bring to the boil then turn the heat to low, put the lid on the pan and let slow cook for 4 hours or until the pork is fork tender.
Remove the pork and set aside for just now.
Add the cornstarch to 160 mls cold water to make a slurry, then stir into the pan over a high heat. Simmer until the gravy isn't cloudy anymore.
Pull the pork, removing any further fat, then add back into the gravy.
Stir through to reheat the pork.
Serve with mashed potatoes and green vegetables or in burger buns.