Chicken, leek puree & macadamia paste. For a tasty little baby puree that's both nutritious and delicious, try our pumpkin, leek and chicken baby puree. With pumpkin as a base, this dish has a mild, slightly sweet taste that makes it a favourite with many a little puree eater. Here we've used cooked chicken, leeks and spinach.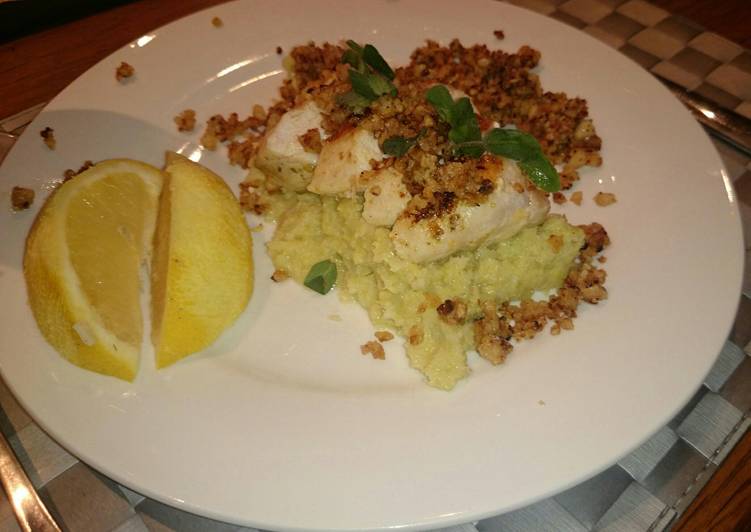 Method; Place all ingredients into TM bowl. Saute the leeks in butter until translucent and cool in the refrigerator. Place the chicken in a food processor and puree until smooth. You can cook Chicken, leek puree & macadamia paste using 19 ingredients and 11 steps. Here is how you achieve it.
Ingredients of Chicken, leek puree & macadamia paste
Prepare of chicken.
You need of Chicken breast.
Prepare of Dijon mustard.
It's of Garlic.
Prepare of Virgin Olive oil.
It's of Coconut oil.
It's of leek puree.
You need of ghee.
You need of leek.
Prepare of Cauliflower.
Prepare of Dry white wine.
Prepare of Vegetable stock.
You need of Macadamia paste.
It's of Macadamias.
You need of Lemon zest.
Prepare of garlic.
It's of Macadamia oil.
It's of lemon juice.
You need of Oregano.
This dish works nicely as a smooth puree, or as a chunky soup with soft pieces that baby can chew. As babies shouldn't have salt added to their food, we always recommend a low sodium chicken stock. Prepare the leeks by melting the butter in a pan large enough to fit the leeks in a single layer. Once foaming add the leeks and season with salt.
Chicken, leek puree & macadamia paste step by step
Coat the chicken breast slices with a mix of dijon mustard, crushed garlic and virgin olive oil in a bowl and set aside to marinate for 20 minutes.
For the puree, slice the leek then heat three teaspoons of ghee in a medium saucepan and saute the leek for ten minutes.
Add cauliflower, white wine and vegetable stock and bring to the boil. Turn heat to medium(ish) and cook uncovered for 5 minutes or until cauliflower is al dente.
Blend the cauliflower until smooth, return it back to a saucepan to reheat just before serving.
Place macadamia nuts, lemon zest and garlic in a food processor and grind into small crumbs..
Heat the oil in a frying pan to medium and add macadamia mixture..
Pan fry for 3-4 minutes, stiring every 10-15 seconds until the nuts and garlic start to brown slightly. Turn the heat off, add the lemon juice and stir. Transfer to a bowl, taste testing in the process (hmmm).
Heat coconut oil in a frying pan until sizzling hot and turn the heat to medium..
Add marinated chicken slices and cook for 5 minutes on each side. Set aside to rest for a couple of minutes before slicing.
Serve chicken breast slices on top of cauliflower and leek puree, sprinkled with a few teaspoons of macadamia crumbs.
Pig out and say yum.
Just before the leeks begin to colour, add the chicken stock. Bring to the boil and then turn down to a simmer, continuing to cook until the leeks are tender. In a large stock pot, add oil, leeks, peppers, celery, mushrooms, chicken and garlic and saute until chicken is lightly cooked and veggies begin to brown. Add chicken broth, pumpkin puree, rice, chia seeds, red wine vinegar, sage, thyme, turmeric, pepper, paprika, and salt. When rice is almost cooked through, add broccoli florets.